IP – an essential ingredient
FMCG businesses are under constant pressure to innovate. Consumer demand combined with intense competition means businesses must continually seek to differentiate themselves in order to win market share, while operating within strict regulatory frameworks and often under highly publicised public scrutiny.
Our food & drink sector experts work with clients to ensure their IP is fully protected, whether during new product development or global expansion, to ensure brand equity is harnessed and the investment that has been made in innovation and design is secured. Our global network of hand-picked IP specialists deliver technical and commercially-focused advice, anywhere in the world.
With one of the UK's largest trade mark teams and a top five trade mark filer, we provide strength-in-depth meaning you are in safe hands. Significant sector expertise and a deep understanding of the commercial drivers, pressures, and problem areas for businesses operating across the food & drink supply chain ensure we can provide business focused solutions.
Perhaps even more importantly, the team provides outstanding response times, a proactive approach and a commitment to capitalising return on spend through focused protection strategies.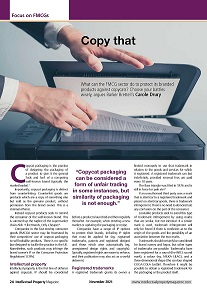 Want to know the difference between a counterfeit and a copy?
Read patent attorney Carole Drury's article featured in the November 2021 edition of IPM Magazine.                                           
For more information, please contact Tracy Arch.