Cosmetics: driven by creativity and innovation; protected by IP.
Everyone knows that intellectual property protects new ideas, but in an established sector such as cosmetics, is there really room for new patents and trade marks? Is the financial investment in patent protection, trade mark and design registration really worth it? Of course. The success of the industry relies on that creativity and innovation to meet the demands of its consumers.
Barker Brettell has a proven track record in supporting businesses in the cosmetics sector. We know from experience that IP can protect your investment and assist in the commercialisation of your ideas, and we know that protection has to be sought at the right time and in the right way. We will use our accrued knowledge and industry insight to create a bespoke strategy that is right for your business.
Whether it's seconding one of our patent attorneys to the in-house counsel of an international corporate client, or helping a startup devise a cost-efficient trade mark strategy, our eight-strong team of attorneys will help you every step of the way. We are very proud that many of those startup clients have remained with us to this day, the one difference is that now many of them are globally recognised brands and industry award winners.
Discretion prevents us from name-checking many of our clients in this sector, but you can read more about our work in our brochure.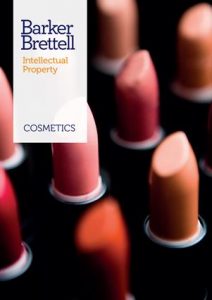 For more information, please contact Rosalyn Newsome.