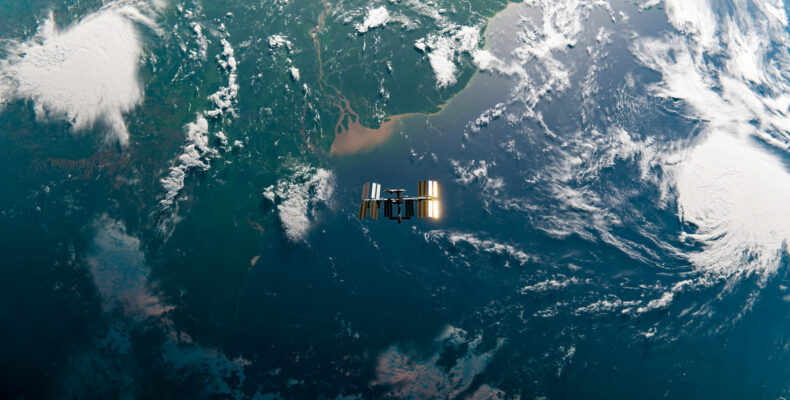 New Space Race promises commercial opportunities and technological innovation in the UK
Posted on
In the past decade there has been a significant shift in how the space sector operates. Unlike the Space Race of the 1960s and 1970s, where government activity dominated the industry, private companies have become increasingly interested in capturing some of the market. Elon Musk's SpaceX represented more than one fifth of global orbital rocket launches last year, while his controversial Starlink satellites account for more than a third of all active satellites.
Overall, the worldwide space economy is expected to continue growing by 5% year-on-year, becoming an industry worth $1 trillion by 2040.
The UK government has recognised the potential growth in this area, and last year published a National Space Strategy. The report highlights the importance of the UK space industry, which is already worth more than £16 billion and directly supports more than 45,000 jobs. The highlight of the report is the development of multiple UK based spaceports. Seven are currently planned, which aim to capture some of the aforementioned commercial launch market. Spaceport Cornwall is expected to see the first satellite launched from the UK later this year.
But while impressive rocket launches may dominate the headlines, the space industry supports and comprises a vast range of technologies.
Satellite technology already underpins much of our modern world. Satellites enable the navigation systems, communication networks, and Earth observations that are vital for civil and defence purposes. The UK Ministry of Defence recently published a separate Defence Space Strategy, acknowledging the importance of these satellite systems. The strategy includes a £1.4 billion investment aimed at securing and enhancing the UK's presence in space. This includes the development of the ISTARI reconnaissance system, and comes on top of another £5 billion plan to upgrade the UK's Skynet communication capability.
The next few years will also see the introduction of entirely new technologies and services being operated commercially. One example is the development of in-space manufacturing and assembly, which will see specialist electronics, pharmaceuticals and materials being manufactured in space for use on Earth. For example, certain high quality glass fibres used in optics and communication can only be made practically in space. The microgravity environment and lack of atmospheric contamination means that fibre optics made in space can have much better transmission properties than those made on Earth. UK based Space Forge is aiming to launch their first manufacturing satellites by the end of 2022, after recently receiving a £7.7 million investment – Europe's largest seed funding round for a space technology company.
Predictably, growth in this sector also provides opportunities for businesses to benefit from providing support services. In-Orbit Servicing (IOS) has been made possible in recent years, and is another area of the space industry that the UK is poised to benefit from. IOS is an umbrella term which encompasses any service which is performed on an active satellite. This ranges from inspection and diagnosis of faults, to refuelling satellites and giving them boosts back into higher orbits.
The MEV-1 (Mission Extension Vehicle) mission first proved the concept of IOS in 2019. MEV-1 docked with the in-orbit, 19-year-old Intelsat 901 satellite, provided a check-up of the communication satellite's systems, before repositioning it in geostationary orbit. This was the first time satellite docking was performed with a satellite not designed for docking, with the MEV-1 coupling to the 'throat' of the Intelsat's rocket motor. The Satellite Applications Catapult is a UK organisation aimed at driving and exploiting innovation in satellite technology, and predicts that the UK will capture $1 billion worth of the global IOS market by 2030.
The rapid growth in space activity has also raised some concerns about the issue of space debris. Space debris is anything in orbit which no longer serves a purpose. This includes retired satellites and spent rocket motors, but at orbital speeds even paint flecks can cause damage to the sensitive scientific instruments and solar panels of other satellites. NASA tracks over 27,000 objects, but estimates that there could be more than 100 million pieces of millimetre-sized debris which are too small to track.
This issue is particularly concerning due to a potential cascade effect known as Kessler syndrome. When two satellites collide, thousands of pieces of debris are produced, which may in turn cause further damage. This is exactly what happened in 2009, when the defunct Kosmos 2251 satellite collided with the functional Iridium 33 satellite, creating a cloud of over 2,300 large, trackable pieces of debris. There is a considerable desire to develop active debris removal technologies to mitigate the problem, and the Satellite Applications Catapult estimates this service will mature by 2030 and be worth $600 million – $1.5 billion. Much like the MEV-1, there are plans to develop de-orbit satellites that will be able to rendezvous with dead satellites and drag them into a graveyard orbit.
Clearly the sector is home to some interesting technologies which are primed for exploitation. Analysis by the European Patent Office and European Space Agency into 'cosmonautic' patents showed that the number of space technology patents in recent years has exploded. Nearly 12,000 patent families were reviewed, relating to eight areas of space innovation: propulsion, structures, control, mechanisms, power, thermal protection, automation/robotics, and space debris.
The study found that the number of worldwide patent applications relating to space technologies grew from approximately 300 per year in 2010 (after being relatively stable for two decades) to over 2,200 in 2017. Evidently, there is a growing interest in developing these new technologies, but also in commercialising them.
Barker Brettell has extensive experience working with such technologies, and the expertise required to help you realise the potential of your innovations. If you would like to find out more, please contact the author or your usual Barker Brettell attorney.
Share