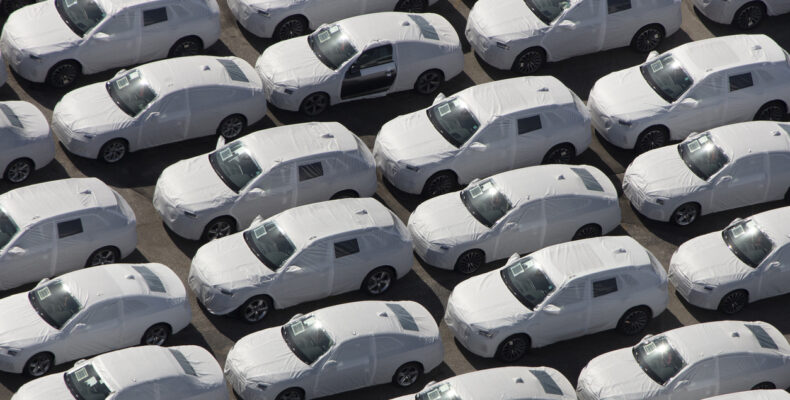 ECUs: the quiet automotive revolution
Posted on
It's been a revolutionary decade for the automotive industry: the period where the transition from manufacturing internal combustion engines (ICEs) to electric vehicles (EVs) ramped up a gear. In Europe, Audi will stop developing new gasoline or diesel engines in 2026, transitioning to EV-only production by 2032; while Volkswagen has pledged that 70% of its European models will be fully electric by 2030. Much of this drive has been motivated by the announcement of stricter EU emissions standards that are due to be implemented in 2025. Meanwhile US-based General Motors has confirmed that it will completely phase out manufacturing ICE vehicles and achieve worldwide carbon-neutral manufacturing by 2035.
The automotive industry's decarbonisation revolution is frequently discussed, and well underway. There's nothing quiet about it.  In parallel to the advent of all-electric and hybrid cars, cars are also becoming more computer controlled, so that they can be repaired and upgraded remotely. This technology is the quiet revolution we would like to discuss.
All modern vehicles have many different electronic control units (ECUs) needed for controlling different aspects of their operation. These are embedded microprocessors with software to receive input signals from sensors which apply control algorithms to generate output actuator signals which affect the vehicle. Various kinds of actuators exist. For example, actuators may include simple relays for controlling door locks, controllers for setting fuel-to-air ratios in the engine, the transmission, hydraulics, suspension, steering and the like.
With the ever-increasing complexity of vehicles and the functions that are controlled by ECUs, gateways are now routinely included in vehicles. These enable communication within a vehicle network system and function as routers and central computing units between the various different parts of a vehicle. These gateways can be remotely accessed by an external telecommunication link, which uses wireless technology to access and control the operation of the vehicle.
It is therefore routine for ECUs to be remotely updated and new software to be installed. This can fix new bugs that have been found or provide improved functionality. ECUs can be programmed and updated with tuner locks, with a lock coded in that prevents anyone but authorised technicians or scanning tools to read the ECU or write to it. If not done properly, accessing, or updating the ECU can result in it becoming 'bricked', essentially turning the vehicle into an expensive paperweight. This 'bricking' of the ECU can be reversed in some situations, but it can also be terminal.
ECUs have opened up an opportunity for car manufacturers to turn features on or off based on user wishes or subscriptions. BMW has recently introduced car seat and driving wheel heating subscription service for BMW drivers who do not have heated car seats or steering wheels as standard.
The heating functions are enabled by software in an ECU: the heating coil and the electronic connections are physically installed in the car when bought, but the button on the dashboard to heat the seats is only enabled once the user has subscribed to the service via BMW's ConnectedDrive, which was the first in-car system to allow unlimited in-car internet usage in 2008 and has now morphed into a fully digital personal assistant, as well as an interface through which users can buy upgrades to their cars. Any function controlled by an ECU can be set up in this way. This also allows second hand BMW customers to upgrade their vehicle by paying a monthly fee.
This has had a mixed reception from BMW customers: some lauding the flexibility of the system – why pay for car seat heating in the summer months; others rankling at having to pay to use heating apparatus that technically is already within the car. To address the concerns of some, BMW have made clear in a press release that no subscription will be required if the car is bought as new with the feature enabled.
John Deere, the agricultural machinery manufacturer, experienced a backlash from farmers and dealers when it introduced locked ECUs via its Connected Support service in 2015. Despite enabling service technicians to remotely dial into customers machines to identify potential faults and fix them, customers were resistant to the technology. It felt an alien process to many who were used to adapting and repairing their own machinery. The new process using ECU technology also meant that technicians are sometimes needed to physically attend a tractor in need of repair and input proprietary code and keys, whereas this could be done by the farmer themselves on older modules. John Deere initially experienced a bad rap for being an early adaptor of this innovation.
However this perception changed in 2022, albeit in tragic circumstances, when Russia invaded Ukraine. During the battle of Melitopol 27 John Deere tractors, planters, and combine harvesters worth $5 million were looted by Russian soldiers from the city's dealership and transported to Chechnya. Staff at the Ukrainian dealership of John Deere fought back by employing ECU technology to locate the vehicles using the GPS receiver installed on the machinery and 'brick' them, rendering this seemingly valuable bounty useless, much to the joy of the company and its customers.
It seems that ECU technology, which opens up many opportunities for drivers and manufacturers, still experiences resistance in some quarters. Customers need to be assured that any system operates under optimum security, and trust between them and the manufacturer. This is why we suggest that its integration into our day to day lives will occur quietly. It is clear that ECUs present many advantages for drivers and manufacturers; providing the ability to update vehicle functions, disable stolen vehicles, allow more flexibility for second hand car buyers, and open up new income sources for manufacturers.
The revolution might be quiet, but the impact on society will be mighty.
If you would like to discuss ECU technology further, then please contact the author, or your usual Barker Brettell attorney.
Share