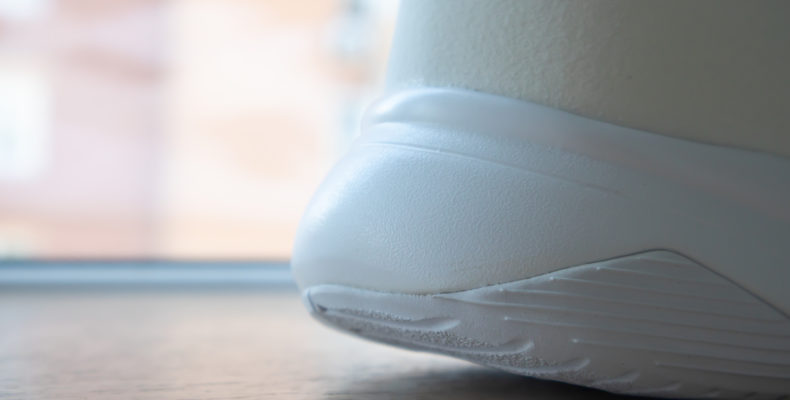 'Work of Art' or brand violation? MSCHF settles as Nike stamps on trade mark infringement
Posted on
Nike has recently reached a settlement with the Brooklyn art collective, MSCHF, over the alleged infringement of a pair of Nike trainers which have become known as the 'Satan Shoes'.
In reference to the 'number of the beast', MSCHF modified and advertised for sale 666 pairs of Nike Air Max 97s. The modified trainers were sold for USD 1,018 per pair. According to MSCHF, each pair of the trainers contained a drop of human blood in the soles. The trainers also included the addition of an inverted cross, a pentagram and the words: 'Luke 10:18'. This is in reference to the Bible verse Luke 10:18: "So He told them, 'I saw Satan fall like lightning from heaven'".
The trainers were adapted in collaboration with the rapper Lil Nas X with the launch coinciding with the release of his song 'Montero (Call Me By Your Name)'. In the music video the rapper can be seen descending into Hell on a stripper pole and giving Satan a lap dance before killing him. A pair of the shoes can be seen on Satan's feet.
665 pairs of the trainers sold out in less than a minute with the final pair being offered by Lil Nas X for the winner of a competition.
Nike sued MSCHF for trade mark infringement at the US District Court for the Eastern District of New York claiming that they had not authorised MSCHF to modify or customise the trainers and obtained a temporary restraining order. Nike was concerned that the unauthorised Satan shoes would cause confusion and an erroneous association between MSCHF and Nike with consumers mistakenly believing that Nike had approved or authorised the product. A number of references to the 'Satan shoes' on social media made it clear that consumers thought the trainers had been endorsed by Nike. Nike therefore asked the Court to stop MSCHF from selling the shoes and prevent the art collective from using its famous Swoosh design mark.
MSCHF hit back at the claims made by Nike arguing that the trainers were 'works of art' and released a statement on the MSCHF website: "… Satan Shoes started a conversation, while also living natively in its space. It is art created for people to observe, speculate on, purchase, and own. Heresy only exists in relation to doctrine: who is Nike to censor one but not the other? Satan is as much part of the art historical canon as Jesus, from Renaissance Hellmouths to Milton. Satan exists as the challenger to the ultimate authority. We were delighted to work with Lil Nas X on Satan Shoes and continue this dialogue… We are not affiliated with Nike, as we have consistently iterated to the press…MSCHF strongly believes in the freedom of expression, and nothing is more important than our ability, and the ability of other artists like us, to continue with our work over the coming years. We look forward to working with Nike and the court to resolve this case in the most expeditious manner".
Lil Nas X also hit back on Twitter stating: "I feel like it's […] they have so much power they can get shoes cancelled. Freedom of expression gone out the window".
Nike rejected MSCHF claims that the trainers were 'works of art' stating that MSCHF: "did not create a single shoe-shaped sculpture to sit in a museum", and instead "created hundreds of shoes emblazoned with a Nike Swoosh that it sold to all comers".
MSCHF did however quickly reach a settlement agreement with Nike. MSCHF agreed to accept "voluntary returns" of any Satan Shoes for their original purchase price for purchasers who were confused and wanted to return them. Nike also confirmed that those consumers who choose not to return their trainers, and later encounter an issue with them, should contact MSCHF and not Nike.
Given the publicity surrounding this case and the fact that the resale value of these limited edition trainers now run in to thousands of dollars, it is perhaps unlikely that any buyers will seek a refund, and therefore be removed from circulation.
It should be noted that the 'Satan Shoes' are not the first pair of Nike trainers adapted by MSCHF. In 2019, MSCHF released 'Jesus Shoes' again made from Air Max 97s but without much controversy.
MSCHF revamped the shoe and added a golden Jesus on a crucifix as a shoelace charm. The shoes also purportedly had holy water in the sole and contained the bible reference Matthew 14:25: "And in the fourth watch of the night Jesus went unto them, walking on the sea".
Nike didn't initially say anything in the case of 'Jesus Shoes' although these shoes were later included in the final settlement agreement regarding the 'Satan Shoes'. Why was that? One can only assume that it was due to the damage caused to the Nike brand being associated with something bad. Nike could see this happening with the 'Satan Shoes' as many consumers – who mistakenly thought Nike was behind the release of the trainers – called for the brand to be boycotted.
It is not uncommon for fashion brands and artists to collaborate and design a collection, or for fashion brands to ask permission to use a piece of art in their fashion design. Similarly artists sometimes take famous brands and incorporate them in to their work of art as part of their freedom of expression.
In some cases, such inspiration and utilisation is legal and doesn't require the consent of the other party. However in the case of the 'Satan Shoes' as the judge held: "the 'transformation' was not enough to consider the shoes a work of art". The trainers were still clearly Nike trainers and many consumers erroneously believed that they had been created or endorsed by Nike.
There is clearly a fine line between freedom of expression and works of artistic creation. However, where it is clear that damage to a brand is being caused or is likely to be caused by such an expression or creation, – especially if consumers erroneously believe that the brand owner is behind the creation or has endorsed it – then, as Nike did in the case of the 'Satan Shoe', brand owners should take robust action to prevent such use and to disassociate themselves from these third parties.
Should you have any questions regarding this article or wish to discuss this further then please do not hesitate to contact the author or your usual trade mark attorney.
Share