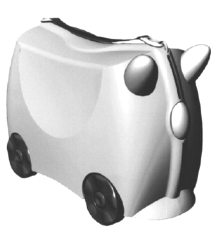 'Case' closed – Trunki design registration confirmed not to be infringed
Posted on
On 9 March the UK's highest court handed down a decision1 confirming non-infringement of a Community registered design (CRD). This is the first decision relating to registered design rights to be decided by the Supreme Court since it came into being in 2009. The decision is important in clarifying the scope and interpretation of registered designs.
Many will be familiar with the Trunki case – an animal-themed ride-on suitcase for children – famous for being on UK TV show "Dragons Den" and for putting in regular appearances at airports worldwide. Trunki's manufacturer, Magmatic Ltd, owns CRD No. 00043427-0001 (figure above). In 2013, Mr Justice Arnold found Magmatic's design registration to be valid and infringed by PMS International Group Ltd. PMS is the importer of the Kiddee case – another creature-based children's ride-on case (see example, below left). Although Arnold J identified several differences between Kiddee and the design registration, he decided PMS infringed because he considered Kiddee to produce "the same overall impression" on "an informed user" as Magmatic's registration.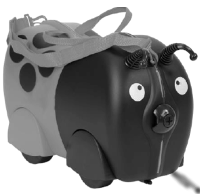 PMS appealed and, on reconsidering the facts, Lord Justice Kitchin disagreed with Arnold J on three points:
(i) he failed to perform a global comparison of the CRD and the Kiddee case – by saying the horned-animal appearance of the CRD was similar to the Kiddee cases which took the form of insects with antennae or animals with floppy ears;
(ii) he didn't consider the effect/lack of surface ornamentation in the CRD – the CRD shows grey CAD drawings devoid of other decoration whereas the Kiddee cases show animal/insect markings; and
(iii) he ignored the significance of the colour contrast between the light grey body and other parts e.g. the wheels shown black in the CRD.
Having considered these matters, Kitchin LJ reversed Arnold J's decision, instead finding that PMS did not infringe Magmatic's RCD. This was good news for PMS, although there was a feeling of sympathy for Magmatic, who were generally considered to have devised an innovative product, and whose design perhaps deserved a greater scope of protection. In the judgment handed down a few days ago, the Supreme Court judge Lord Neuberger – unfortunately for Magmatic – agreed with Kitchin LJ's findings. The outcome is perhaps not surprising, but the discussions and what it means are interesting.
In discussion of point (i) above, we are reminded that, although determining infringement necessitates identifying and comparing individual features, the test is whether the overall impression the alleged infringing product makes differs from that made by the CRD. Here, cases that look like insects with antennae or floppy-eared animals are not sufficiently similar to cases that look like horned animals to infringe.
In the discussion of points (ii) and (iii), Neuberger L confirmed that surface decoration, or a lack of, can affect the overall impression of a design, because it "significantly affects how the shape itself strikes the eye" and "absence of decoration can … be a feature of a registered design". He also said where a CRD lacks decoration "that does not mean that because an item has ornamentation it cannot, for that reason alone, infringe the registered design in question". Previous case law confirmed black and white line drawings provide the broadest protection, and are more likely to be considered not to exclude ornamentation than a CAD image.
Arnold J's original finding of infringement, at the time, seemed to broaden the scope of registered design protection. This is dependent on the "degree of freedom" of the designer. In principle, where a designer has a lot of creative freedom, and especially when a totally new product is designed, he might expect a greater scope of protection meaning more products could be deemed to infringe. Kitchin LJ's appeal decision reigned this back in, and is confirmed by Neuberger L's judgment. So we seem to be back where we started, but with the benefit of the judges' commentary along the way.
For example, in para[30] of the Supreme Court decision, Neuberger L reminds us of Procter & Gamble v Reckitt Benckiser2 which said, at para [48], if "[t]he registration holder … chooses too general a level, his design may be invalidated by prior art. If he chooses too specific a level he may not be protected against similar designs". Neuberger LJ also refers, in para [31] of his judgment, to an article3 by Dr Martin Schlötelburg, which says "the selection of the means for representing a design is equivalent to the drafting of the claims in a patent: including features means claiming them".
So, registered designs continue to provide narrow protection – nothing's changed there. However an applicant has a free choice on how to present his design in his application, and careful planning and good advice can maximise the scope of protection. The importance of getting the representations right in the first place is crucial to obtaining the right level of protection. For example line drawings, CAD renderings, or photos? Black and white or colour images? Should you use shading? Should you consider disclaimers? Can you benefit from filing multiple designs? A design application can be tailored in many ways, and EU-wide registrations continue to be relatively easy and inexpensive to obtain – especially since multiple designs in the same class can be covered under one application, regardless of differences in design, features, detail etc. Registered designs remain valuable assets worth having – but only if done right.
For more information or advice, please contact Carrie Johnson or your usual Barker Brettell attorney.
1 PMS International Group Plc v Magmatic Limited [2016] UKSC 12
2 Procter & Gamble Co v Reckitt Benckiser (UK) Ltd [2007] FSR13 (and on appeal: [2008] FSR 8)
3 The Community Design: First Experience with Registrations [2003] EIPR 383, 385
Share