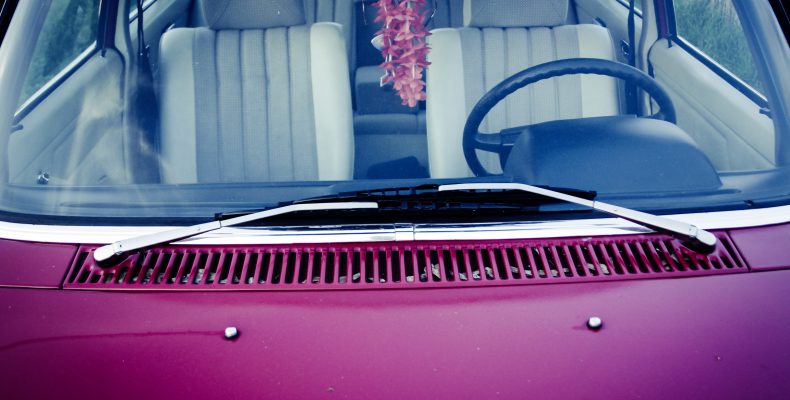 Silver screen to Body in White – next-generation tech was imagined in the 80s
Posted on
Forget trawling through clandestine photos of heavily camouflaged prototype vehicles to get a first look at 'the next big thing' in automotive technology. If you really want to know what's hot right now, you should have been paying attention to TV series and movies released in the 1980s. It was all there: AI – James Bond's Aston Martin V8 Vantage Volante in The Living Daylights; autonomous vehicles – David Hasselhoff's KITT in Knight Rider; alternative energy – Doc's plutonium-fuelled DeLorean in Back to the Future. Some could even fly (briefly) – remember Danny Zuko's 1948 Ford Deluxe in Grease?! It's clear that the only brake on innovation is our imagination, so what can we do in the real world to protect it? Two words: Intellectual Property.
So what benefits does IP bring your business? First and foremost, it protects against misappropriation of your innovation. Without formal protection, there can be potential for loss of your commercial advantage, whether through parallel invention by a third party or simply outright copying. More than that, IP provides assets that, whilst intangible, have real value for your business. Moreover, that value can be monetised in the medium-term by tax advantages, at least where patents are concerned (see our article on UK patent box and tax credits, here).
Let's take the flying car concept. I admit the movie Grease didn't have a scene where Danny and the rest of the T-Birds patented Grease Lightning's flight-enabling aspects, but today flying cars are being trialled, along with the patented technology which enables them to operate. Slovak newcomer Aeromobil is leading the way in development of a real, working, car-stroke-aircraft. The patent application portfolio already includes diverse concepts from methods of stowing wings and propellers for road use to less visible improvements such as control systems for combined ground and air steering.
Aside from patents, Aeromobil has looked to protect the design of its flying car with Registered Community Designs (RCDs). A simple way to get additional protection over parts of your vehicle not governed by technical function, designs can be hugely important. Jaguar Land Rover, as a more established example, has a portfolio of nearly 1500 RCDs, protecting everything from the overall look to the intricacies of headlights and grilles. When selling, this is what a customer sees, so don't ignore the importance of registering a design.
Realistically, a commercially available flying car could be some years off but an autonomous vehicle such as KITT, and AI technology like James Bond's Aston Martin, is much closer, if, in fact, it is not already becoming the norm. For evidence of the development of mainstream vehicular autonomy, you need look no further than the development of Tesla's Autopilot system. Whilst not a fully-fledged autonomous driving aid – yet – the system provides speed, lane, and collision controls, as well as the ability to automatically park and subsequently return. Many of these technologies or their precursors are available on high-end vehicles, but Autopilot's combination of the technologies shows a commitment to providing fully autonomous driving in the future.
Waymo, a subsidiary of Alphabet – Google's parent company – is currently trialling truly autonomous vehicles across the USA, in some cases with no driver present. In Phoenix, AZ, the company intends to launch a driverless taxi service by January 2019. A quick search reveals over 300 patents and applications owned by Waymo, showing the extensive portfolio of technology providing the basis for this service (source: Espacenet).
Clearly, Google is operating on the premise that autonomous vehicles are the future – and this may be the case in the UK – but BMWs highest ranking Briton (until retirement earlier this year), Ian Robertson, thinks that regulation may prevent such autonomy ever being allowed in the UK. In a response to potential regulatory issues, Volvo has made the bold move of stating that they will accept full liability for their cars when in autonomous mode. That's a lot of confidence in their technology.
All this motoring wizardry is all very well and good, but how do we power it? In the 80s Doc's DeLorean was fuelled by plutonium, in the 00s diesel was the answer, and today it's electricity. It's now possible to charge a family EV using the solar power from the roof of a house.
In order to further the innovation, particularly around battery, Tesla has taken the extraordinary step of providing access to its electric vehicle-related patents on an open-source basis. Whether this makes a difference to the big players, many of whom have much larger portfolios, is not certain, but it could be highly beneficial for newcomers to the market who can benefit from a boost to their fledgling R&D programmes.
As an alternative to battery power, hydrogen is still being considered. The big technological issues facing the industry include the lack of hydrogen infrastructure and the high initial costs involved in producing hydrogen vehicles. Whilst costs will come down with increased uptake, there is room for innovation in producing the infrastructure. Unlike fossil-fuels, hydrogen can be created onsite by renewable technology. Making use of this advantage could lead to small-scale, or even home-based fuelling stations.
And finally, if this technology is financially beyond your means, cars aren't the only items available. Branding in the automotive field has always been big business, with merchandise sales often driven by motorsport achievements in addition to prestige. But innovation also seems to sell, just ask Tesla – yes, them again – who have an online shop selling not just vehicle accessories but also apparel and 'lifestyle accessories'. If you can brand it, you can sell it – the power of trade marks.
So there you have it. Whilst the blue-sky thinkers might have been the 80s movie directors, the future of vehicles is now almost here. It's about time you start protecting the innovations that allow these concepts to find their way into real life. In the meantime, don't forget to keep one eye on what might be the next big thing in automotive innovation – enjoy the cinema this weekend!
Share