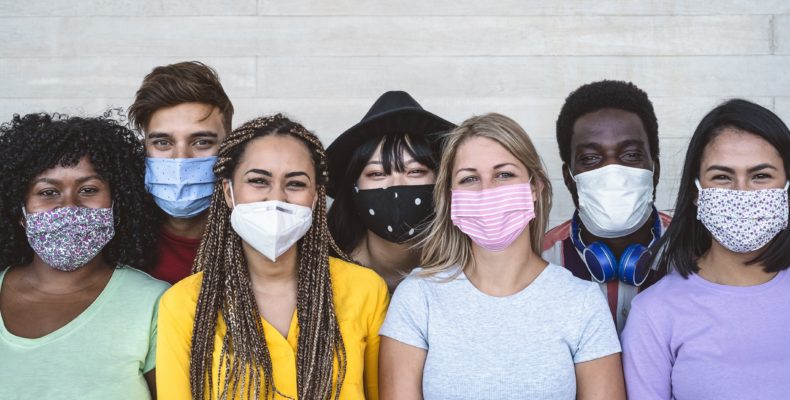 Silencing the counterfeiters – are face masks their new target?
Posted on
For many, whilst COVID remains an issue, wearing a face mask at some point during day-to-day life has quickly become the norm. And in order to satisfy this exponential growth in demand, a whole new industry has appeared.
The majority of people started out using standard medical-type masks. But as time has moved on, it is clear that advice to wear a mask will continue for the foreseeable future, and this has led to a shift in buying behaviour. Masks are no longer just a medical or utility item; they have quickly become a fashion accessory. Today, you can buy a mask with any number of famous brands, designs or images on them. You can even have a mask custom-made incorporating a brand, design, or image of your choice. In some cases this mask will be manufactured with the blessing of the owner of the Intellectual Property (IP) rights for that brand, design or image. But some are manufactured without the relevant permissions.
Aside from the obvious commercial and financial damage that purchasing a counterfeit product can cause to the IP owner rather than purchasing a genuine product, there is also a matter of safety.  Although primarily the user is looking to make a fashion statement, it should not be forgotten that the main reason a mask is being worn is for safety reasons. There is no guarantee that the counterfeit mask being worn actually works, posing a safety risk to the consumer. This in turn can lead to a risk of damage to the IP owners' reputation, which no monetary compensation can remedy.
So what action can you take if your brand or design is used on a mask without your permission? You use your IP rights.
Trade mark infringement
Assuming that the product is sold under or incorporates your trade mark, it may be possible to prevent the same on the basis that it infringes your trade mark rights.  An attorney would be looking to argue that there is a likelihood of confusion regarding the source of the product: in other words, the consumer will assume that it originates from your company. It may also be possible to argue that the sale of products sold under, or incorporating your trade mark, would damage the reputation of your brand; both from the perspective of dilution and the risk caused by selling a low quality product.
Design infringement
If you have protected a fabric print with a design registration, you have a monopoly right to prevent someone from using that design or something which is substantially similar. This applies even if you have never used your fabric print on a mask before.  If there is an image synonymous with your business – for example, the image of the cartoon character 'Scooby Doo' which is IP protected by Hanna-Barbera Productions Inc. – used without your permission, you can take steps to prevent this happening.
Even if you have not registered a design for your fabric print or the image, you may still have common law rights by way of an Unregistered Design Right depending on when the image in question was first released into the public.
Copyright
It is recognised that artistic copyright subsists in many designer fabrics. If a third party produces a mask incorporating one of your fabric designs or prints, this may then give rise to a claim of infringement of your copyright.
There is arguably a moral question about whether you should enforce your IP rights against a third party which is making masks in the fight against COVID?  However, the fundamental issue here is not that it is making the masks; it is that a company is looking to exploit your IP for its own gain. This is wrong and should not be tolerated. It is up to the IP-owner whether or not to allow the reproduction of a brand, design or image without charge.
If you want to discuss this area of IP infringement further, please contact the author, Lucy Walker, or your usual trade mark attorney.
Share