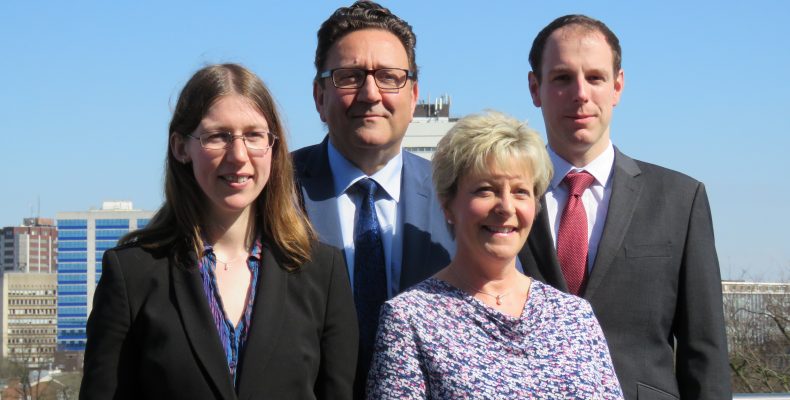 (l-r) Katie Howe, John Lawrence, Jane Williams, Callum Docherty
Gather, nurture, grow: Leading IP firm's winning recruitment formula
Posted on
Leading Intellectual Property (IP) specialist Barker Brettell is celebrating outstanding examination results and a number of promotions this month. Two of the firm's trainees, Katie Howe and Callum Docherty, based at its Birmingham headquarters have been awarded prizes for achieving the highest mark in their respective Patent Examination Board exams; while David Combes and Neil Kilpatrick have both been promoted to associate patent attorneys. Meanwhile Jonathan Myers, who is based in the Southampton office, has been promoted to partner.
"In the past twelve months our trainees have scooped four prestigious national patent exam awards," said John Lawrence, senior partner and patent attorney at Barker Brettell. "We know that we have a talented team of patent attorneys, but Katie and Callum's results are exceptional. In fact, in another exam Callum achieved 100 per cent. Along with Jonathan, David and Neil's promotions, we are delighted to be celebrating the patent team's hard work and commitment to our clients."
Barker Brettell is one of the largest IP firms in the UK. It provides global patent, trade mark copyright and design advice and protection to clients ranging from entrepreneurs with a great idea, to multi-national corporations.
"Today people are looking to work for a firm that will help them unlock their professional potential and enable them to grow," added Jane Williams, head of human resources at Barker Brettell. "We have always encouraged all our staff, and as a result have some pretty incredible staff statistics – currently our longest serving member has been with us for 44 years and 70 per cent of our partners are female. Creating a work environment that encourages opportunity and filling it with talented and experienced individuals, is a powerful mix that sets us apart from the crowd and enables us to recruit exceptionally talented individuals who can deliver a great service to our global client base."
Share