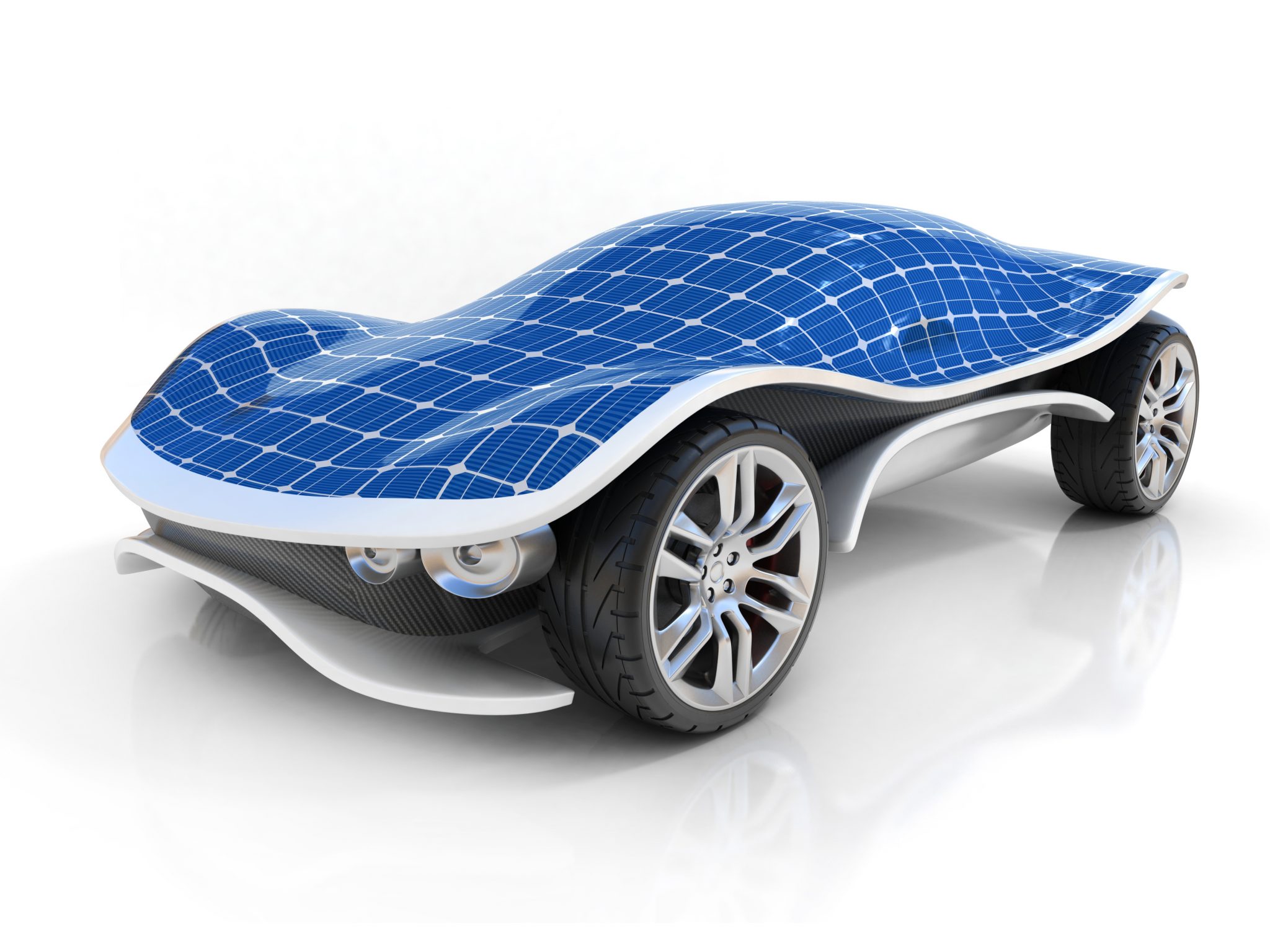 solar car 3d concept
Market disruption and politics in automotive sector patenting
Posted on
The upward trend in patent filings over the last five years indicates innovation is a key driver in the car industry, as detailed in a recent report from Thomson Reuters, summarised here in a previous update from Barker Brettell.
Further analysis identifies significant recent geographical variations in patenting activity trends in the sector. By breaking down the applications geographically in the chart below, it can be seen that Chinese patent numbers have increased by around 125% in just four years, going from 20000 "Vehicles in General" (class B60) patent applications in 2011 to 45000 in 2015. US numbers have increased by around 50% over the same time frame. However, the number of International (PCT) and European filed patent applications increased much less significantly, and even fell during 2014-2015.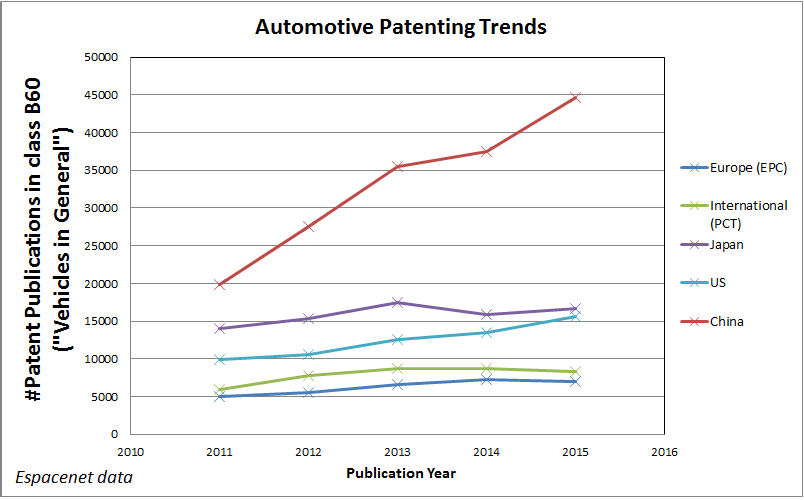 Why are we seeing these changes, and what does that mean for the European automotive industry?
Politics in pole position
The sheer number of annual publications of Chinese patent applications stands out. In China, the current science and technology "five year plan" includes the goal of China becoming an "innovation-oriented" society by 2020. There is therefore direct governmental encouragement of patent filing activity to drive the economy forward.
Improved enforcement of intellectual property rights within China is also an encouraging factor for companies outside of China considering whether or not to file applications in China.
In the US it appears that governmental policies may also have had a similar effect. A combination of the large market for vehicles and emissions-targeting policies, such as California's Global Warming Solutions Act of 2006 and more recent initiatives from President Obama, have driven competitive innovation in the automotive field, especially in the area of energy efficiency.
The Thomson Reuters report indicated that, of the automotive sub-areas considered, "propulsion" (covering internal combustion engine improvements, hybrid drive-trains and battery-electric and fuel cell-electric vehicles) attracted more patenting activity than any other technology area. Propulsion patent filings increased from less than 2,000 in 2009 to nearly 12,000 in 2013 – a rise of around 500%.
More recent policies, such as the COP21 deal (the Paris Climate agreement), may well have a similar effect on future patent filings outside of the US.
Following the recent news that Obama's Clean Power Plan, intended to keep the US on track for the Paris Climate Agreement, is now delayed due to legal challenges, it will be interesting to see whether or not the US's increasing trend in patent filing takes a hit this year, particularly in the propulsion and fuel efficiency sectors.
…and why the recent blip in Europe and elsewhere?
As highlighted in KPMG's Global Automotive Executive Survey 2016, "A major business model disruption is anticipated to be extremely likely… More than 80% [of the automotive executives surveyed] are convinced that connectivity and digitalisation will strongly disrupt the auto industry by the end of this decade".
Indeed, 2015 was the first time that car hacking made the mainstream press, demonstrating that the automotive world is facing new challenges that simply would not have occurred to vehicle developers a decade ago.
In countries without the recent political drivers for traditional innovation present, as seen in the US and China, this disruption may be leading to changing practices within the sector.
As some sector participants test the water of these less familiar areas, it is perhaps unsurprising that patent publication activity has slowed a little. Companies may be wary of how much should be put into the public domain whilst they are still finding their feet. Indeed, some innovation (such as methods for preventing car hacking) may be deliberately kept unpublished to reduce the chance of circumvention. Trade secrets have their place alongside patents in any intellectual property (IP) portfolio.
Conclusion
China and the US are most definitely in the lead for patent activity in the sector generally. Innovation in the automotive industry is not in short supply and this has to be good news. However, a temporary blip in the increasing trend in annual patent filings elsewhere may not mean that innovation is taking a back seat in those countries, but rather that it is changing direction.
In terms of the automotive supply chain, this changing landscape may mean that new suppliers from outside of the traditional automotive world will be more in demand than ever before.
Barker Brettell's automotive group advises car manufacturers, supply chain companies and non-traditional companies foraying into the sector on IP protection, delivering strategic and commercially focussed solutions.
Share