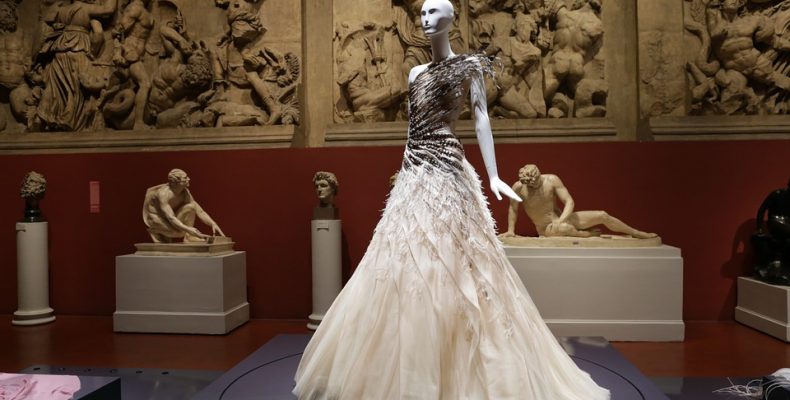 Cutting Edge or a Fashion Faux Pas? Branding and Outrage
Posted on
Fashion
Fashion is a field that prides itself on being cutting edge or avant-garde, particularly at the level of the catwalk. The desire and need for edginess arises predominantly from the short-lived nature of fashion and the necessity of staying ahead of the curve and standing out.
Said edginess often takes the form of provocation. This can either be an excellent marketing tool, or a pitfall. When provocation is pushed too far, it can tip into the offensive, and prove wrong the adage that "there's no such thing as bad publicity".
The great Alexander McQueen was an expert in balancing provocation and offense – portraying a romantic savagery and a memorable intensity. McQueen's work was often profoundly contentious. For example, his seminal Fall/Winter '95 collection, Highland Rape, which was inspired by the ethnic cleansing carried out by British forces in the Scottish Highlands in the eighteenth and nineteenth centuries, was deemed to be greatly controversial. Nevertheless, despite this controversy, the collection is a work of art still celebrated today due, in no small part, to its sophisticated balance between outrageousness and taste. Such balance is needed equally within design as within brand names, as we shall explore.
Trade Marks:
Article 3(3)(a) of the 1994 UK Trade Marks Act and Article 7(1)(f) of the European Trade Mark Regulation set out that a trade mark shall not be registered if it is contrary to public policy or to accepted principles of morality. The rationale behind these provisions is to preclude marks from registration where granting a monopoly would contravene the state of law or would be perceived by the relevant public as going directly against the basic moral norms of society. However, as one might expect, this must be balanced with provisions on freedom of expression.
If a mark is merely distasteful, then an objection under section 3(3)(a) is unlikely to be justified, whereas if it would cause outrage amongst an identifiable section of the public, or would likely significantly undermine religious, family or social values, then this would be sufficient to raise an objection. It is not enough that the Examiner finds the mark offensive and an objective analysis must be undertaken. The assessment must be based on the criteria of a reasonable person with average levels of sensitivity and tolerance. "Message-carrying" goods aimed at the average consumer such as clothing or headgear may be more likely to face an objection.
We take a look below at some brands who have got it right, and some who have not…
Woodman v French Connection Ltd ('FCUK') [2007] RPC 1., Case O-330-05
The fashion retail group French Connection Limited provides a useful example of when a company has managed to balance provocation and offense within its brand, skirting the Registry's requirements, but also managing to secure memorability without negative publicity.
French Connection owns UK Registration No. 2184549 FCUK for, inter alia, watches, key rings, and jewellery. It registered this mark in 1999; however, in 2004, Dennis Woodman applied for the mark to be invalidated on the ground that it was an immoral mark barred from registration on the grounds of being contrary to public policy or accepted principles of morality. Mr Woodman argued that the FCUK mark was intended to be mistaken for a vulgar expletive. French Connection argued that although word play was possible, the origin of the mark was as an acronym for 'French Connection United Kingdom'. The UK Registry ruled in favour of French Connection.
Mr Woodman then appealed the decision to the Appointed Person, Judge Arnold, on the grounds that the acronym was offensive, contending that it essentially was the swear word and that it would be interpreted as such. Nevertheless, Judge Arnold deemed the FCUK mark to be acceptable because it was not a phonetic or visual equivalent of "f***" and because "[t]he offence is not caused by FCUK itself, but rather that through word play, mistake, or misconstruing of the letters, the mark is capable of being seen as the word."
In reaching this decision, Judge Arnold appeared to be influenced by the fact that regulatory authorities, such as the Advertising Standards Agency (ASA), and the Committee of Advertising Practice (CAP), had allowed use of FCUK. Any offence did not appear to be caused by use of FCUK on its own, but rather where the use had been in a context where FCUK could be interpreted as "f***"; no ASA complaints had been upheld to use of FCUK on its own. Use of word play and allusion therefore appear to have been key to French Connection's success in this case.
Pro-Football, Inc. v. Amanda Blackhorse et al. [2015] (Case No. 1:14-cv-01043-GBL-IDD)
No such luck for Pro-Football, Inc., d.b.a. the Washington Redskins, a franchise of the NFL. The franchise had been using the REDSKINS mark for over eighty years, and the six trade mark registrations in question (three word marks and three logo marks) had been granted between 1967 and 1990. Although these names had been used for many years, US culture and consciousness changed over time. Consequently, the team had been pressured for years to change its name to a less offensive choice.
This pressure took legal form as of 1992. Similarly to UK and EU law, US law allows a trade mark registration to be cancelled if it "may disparage" or bring people into contempt or disrepute.
Despite an earlier, unsuccessful attempt to cancel the six REDSKINS trade mark registrations, a second case was brought by five Native Americans: the "Blackhorse defendants". On 18th June 2014, the Trademark Trial and Appeal Board voted to cancel the registrations on the grounds of disparagement. This was appealed by the WR; however, in July 2015, the U.S. District Court for the Eastern District of Virginia affirmed the registrations' cancellation.
The Judge found that "evidence shows that the term 'redskin,' in the context of Native Americans, was offensive", and dismissed the WR's plea that the relevant statute violated the First Amendment of the US Constitution as the ruling did not prevent the WR from using the marks, just from registering them. This decision was a significant victory for Native American activists who have long campaigned against the REDSKINS trade marks on the basis that they are a racial slur.
This case highlights the possibility of commercial damage caused by a poor choice of name. WR sponsors such as FedEx faced negative publicity of their own and pressure to drop its association with the team. Further, although judging the precise value of a brand name is difficult, it does appear as if use of the REDSKINS name financially hurt the club (see here).
Designs:
The 2015 Alexander McQueen exhibition Savage Beauty showcased a range of collections which, while at times controversial, did not tip into the distasteful.
However, other companies have not managed to navigate this so competently and instead have fallen prey to the pitfall of being fashioned in outrage, rather than fashionably outrageous. We consider a few examples below.
Zara, August 2014
Spanish retailer Zara confronted a wave of criticism after blog +972 pointed out that its blue and white striped pyjamas featuring a yellow star on the breast looked uncannily like the striped garments and yellow stars that prisoners were forced to wear in concentration camps during the Holocaust.
Zara removed the pyjamas from its online stores only a few hours after posting them and took to Twitter to apologise. Sadly, this was not the first time that Zara made such an unfortunate design choice, the store having sold a handbag displaying four green swastikas in 2007.
Urban Outfitters, June 2010
American multinational clothing corporation Urban Outfitters faced backlash after selling a V-neck t-shirt with the words "Eat Less" emblazoned on it. The t-shirt was criticised for encouraging anorexia nervosa and other eating disorders.
After the backlash, the t-shirt was pulled from the chain's website. However, Urban Outfitters appeared to continue to sell the item at stores, although, perhaps in a misguided attempt to pre-empt further criticism, only in larger sizes.
Unfortunately, this appears to be only the tip of the iceberg when it comes to Urban Outfitters' style slip-ups. Recently, its Peachy Head "Shampoo For Suicidal Hair" has been pulled from stores, following criticism of its use of suicide as a promotional tool.
Perhaps it's time for the company to reconsider its shock marketing tactics.
Adidas, 2012
After previewing its high-top sneakers the 'JS Roundhouse Mids', on its Facebook page, German sports apparel maker Adidas generated an unwelcome media storm.
The sneakers, now known as the infamous 'shackle shoes', prompted condemnation from many people including civil rights activists due to the shoes' uncomfortable similarity to the chains used to restrain slaves. Adidas initially defended the shoe as "nothing more than Jeremy Scott's outrageous and unique take on fashion and ha[ving] nothing to do with slavery". However, shortly after standing by the design, the company decided, wisely, to cancel the release of the shoes.
Conclusion:
As the above examples show, even the biggest companies get it wrong sometimes. Care should be taken to check whether you are on the 'right side of the line' between edginess and offensiveness.
The key to success appears to be handling the potential source of outrage in a sophisticated manner; alluding to it rather than simply depicting it baldly. This can be achieved either through symbolism, as in Savage Beauty, or word play, as employed by the FCUK brand.
Share